DATA DESTRUCTION SERVICES
Do you have old hard drives in your company that are not useful anymore? Are you planning to upgrade the storage capacity of your systems by replacing the old drives with the new ones without worrying about your data being leaked? We from ITPickup guarantee you the safety of your data and ensure that you get best returns when you sell them to us.
Secure Data Destruction Services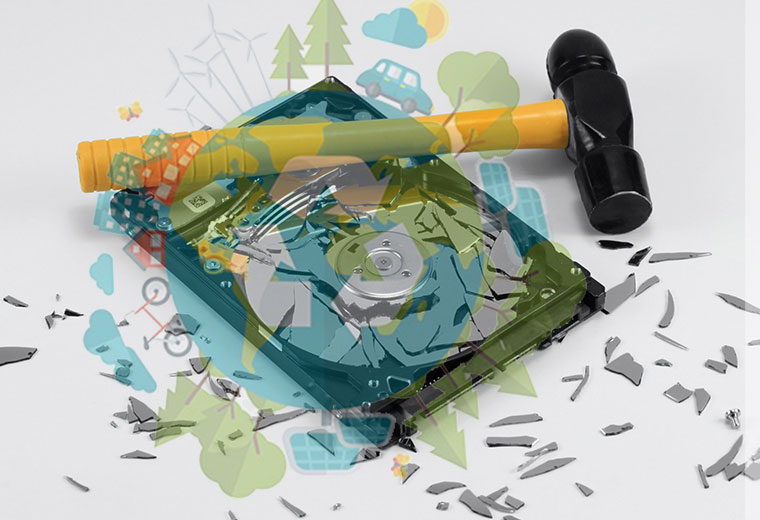 No Scope for Data Leakage
Most of the companies want to dispose of their storage drives, but worry that their company data might be looked into by other companies, which is quite a serious issue. But with our highly efficient data destruction techniques, we not only erase the data but also dismantle all the parts and extract the valuable materials out of it.
Want the data in the hard drives to be securely erased at your office premises? We also provide on premise data destruction services which can be done in such a way that the sensitive information related to your company will be wiped off from the hard drives in your office itself. You can have peace of mind and complete trust with our certified IT Pickup company.
How do we destroy the data ?
Coming to the data destruction process, we offer you two alternatives. You can either get the data wiped off via virtual destruction or destruct the drives physically, through mechanical crushing. Whatever the process may be, we assure you that no third party is involved.
Data Destruction Using Software
If you are concerned about the confidentiality of your data, please be rest assured with our secure data erasing services. We only employ experienced and authorized personnel who are well trained to remove the data safely and maintain the privacy of your data.We use a specialized software to format the data in the hard drives.
Even if any part of the data remains in the hard drive after destructing the data using software, it will be completely eliminated in the next step i..e hard disk shredding process. In the shredding process, we will send the hard drives into an electromagnetic field where the left over data will get completely erased.
With our multilevel data erasing process, we ensure 100% destruction of your data without any chances of recovery. If the hard drives are no longer suitable for reuse, we send the hard drives for shredding which will completely dismantle the hard drives into very small pieces. After this, precious materials will be extracted from them.
Recycling of Waste Components
As a part of our data destruction services, our trusted and dedicated staff will carefully collect the hard drives, erase the data and reuse the drives or any essential parts from them. After the destruction of your data, we follow safe practices for disposing of the material.We are authorized by KSPCB (Karnataka state pollution control board) to collect electronic waste from different companies and process them accordingly. After collecting the e-waste, we segregate, dismantle and recycle them according to KSPCB norms with nature-friendly policies.
Contact us
If you have any questions or queries about IT equipment buyback services, feel free to contact us by Telephone, Email, or Requesting a Quote. We'll be happy to assist you.
Does your company have a high profile and crucial data? Are you worried about whom to trust regarding the safe destruction of your data? We from IT Pickup are at your service. We provide data destruction services to companies in Hyderabad, Chennai, Mumbai, Bangalore, Pune, Noida, New Delhi, Kolkata, Ahmedabad and all over India. You can contact us for hard drive shredding services via live chat, email and phone call.
Service Available Across India
Schedule Pickup
FOR OLD EQUIPMENT