Server Buyback Trivandrum
Do you want to upgrade your data centre for creating a new server environment to meet the growing demands? At ITpickUp, sell your surplus used servers and get access to the best possible returns. You can opt for exchanging to replace the old servers with newly configured servers. We erase your data securely and dismantle unnecessary parts. Based on the provided details of servers, we propose a quote, offer extra prices to bulk quantities and free pickup service.
Sell Old and Used Servers
If you have in-stock old servers that no longer require your business, you can sell them at ITpickUp under a buyback program that gives reasonable values. We buy all kinds of servers, including blade servers, super-micro servers, etc. 
Exchange and Upgrade Option Available
Wanted to replace the used servers with new hardware? ITpickUp provides the benefit of exchanging or upgrading to the advanced servers that improve productivity. In addition, it offers an easier and simple buyback procedure to sell the servers. 
Secure Data Erasure and Dismantling
We ensure the secure data destruction of your servers, dismantle parts that are not useful for the refurbishing process, and restrict data access from third parties. We also record the process of data destruction of hard drives. 
Gain Returns and Invest on New Servers
ITpickUp guarantees to achieve significant returns on your investments through our transparent buyback process. As a result, you can get the finest returns for any configuration and brand servers to purchase new or upgraded servers. 
Schedule Pickup
If you have any questions or queries about IT equipment buyback services, feel free to contact us by Telephone, Email, or Requesting a Quote. We'll be happy to assist you.
Save Hardware Depreciation Costs
Are you worrying about depreciation costs to maintain the repaired servers? We provide a buyback program that helps avoid the depreciation prices of your IT assets and save some amount. Get best buyback values by selling unwanted servers.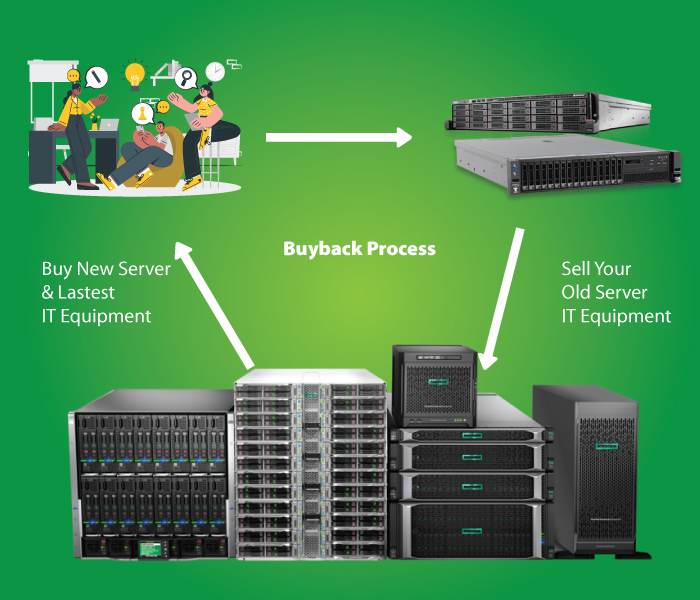 Instant Quote Based on Model
After inspecting and auditing your servers by our IT experts, we send a quote and evaluate the prices based on their conditions, brands, models, part numbers, etc. Thus, we reward great returns for servers to be sold. 
Doorstep Pickup at No Extra Cost
Once you agree to the proposal, we schedule the pickup service and transport the equipment safely to the concerned warehouses. Our team will come to your doorstep no matter where you are and ship the servers without additional charges.
Special Prices for Bulk Orders
You can get the flexibility to achieve significant financial gains by selling outdated servers in bulk quantities because the servers may have residual values or may allow refurbishing again. We ensure the highest possible values to your sold servers. 
Schedule Pickup
FOR OLD EQUIPMENT