SERVER BUYBACK IN NEW DELHI
Are you planning to wipe out old and obsolete servers that are of no use? Confused about what to do with the surplus servers? Fed up with tiring buyback options in the market? IT Pickup is a one-stop solution for all your questions as we provide you profitable and hassle free ideas to buy your used servers at best market prices. Might it be a blade, tower or a rack server, we buy all unused, excess, outdated and replaceable servers from all major brands like Dell, IBM, Cisco and HP. Get in touch with us to know all about the easy buyback procedure in New Delhi that provides better returns and free pickup services.
Best choice to Sell and Replace Servers
Are you thinking of selling or replacing your servers? With constant growing demands of the latest technologies, it is natural to upgrade your servers once in a few years for better productivity. Make good money out of your used servers while helping the environment get rid of e-waste. ITPickup comes up with best buyback deals so that you can make some money out of your old servers or credit the money to replace your old servers with our latest high-quality server versions.
Do you wish to make money out of your unwanted servers? Maximize the ROI with our best buyback solutions that aim to benefit you with the best prices available in the market. We provide excellent server buyback solutions that guarantee supreme returns on the servers you wish to replace or dispose. We come up with reasonable and fair prices on old, worn out, unused and damaged servers as well as their server parts. We assure you that you can receive greater returns despite the quantity of the servers you wish to sell.
Schedule Pickup
If you have any questions or queries about IT equipment buyback services, feel free to contact us by Telephone, Email, or Requesting a Quote. We'll be happy to assist you.
Effortless Buyback Process
Our strategic buyback process is designed to buy the unwanted servers in the simplest possible way. Our trained technicians directly deal with you once contacted, commencing the basic inquiry about the servers regarding their model, type, number of years used, working conditions etc. We then send our engineers to your premises for quick verification of the details that you have provided us. We promise free disposal of your server hardware in your data centers and guarantee best deals out of them.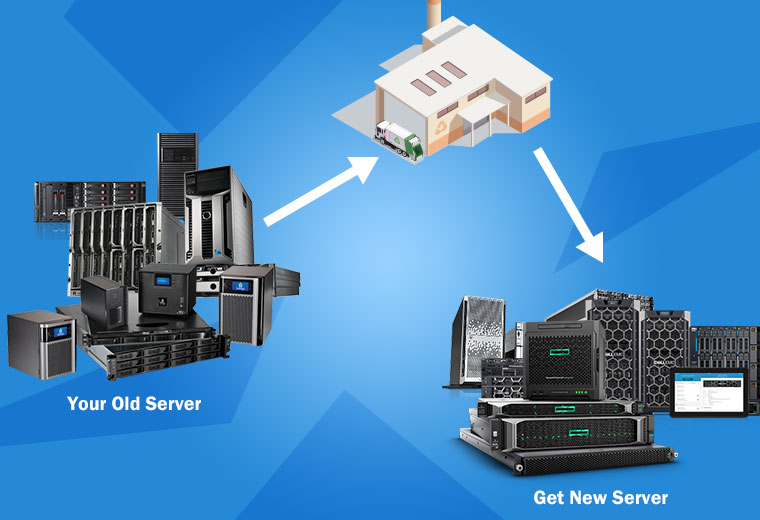 A quotation is raised immediately subsequent to the confirmation we receive from our engineers as we value your time. As mentioned before, we put the best buyback prices on your servers in comparison to the rest of the market deals. Once you agree to the estimated quote, you can either take money or exchange it with the new server.
It is our responsibility to transport the servers safely and free of charge. The servers will be tightly sealed and transported securely. We have tied up with the best delivery services that help us in smooth transferring of the servers.
Schedule Pickup
FOR OLD EQUIPMENT