Do you have a bunch of Dell servers and want to dispense them for good? Need a reliable platform that understands your requirements and provides you with better returns? If yes, then ITPickUp is the place for you. We have a team of technical experts who perform the buyback process, ensuring that your server data is completely destroyed before the servers are packed for shipment. You can either collect the returns or upgrade your workspace with the authentic servers in exchange for these unwanted Dell servers. Get in touch with us right away to learn more about our buyback schemes.
Sell your Used/EOL Dell servers
Looking for an ideal solution to remove old and end-of-life servers? We buy all Dell servers irrespective of the form factor they come in. With advanced and eco-friendly strategies, we ensure that your obsolete servers are put to good use.
Prompt and Easy Back Process
ITPickUp strives to comfort its customers. Our Dell server buyback procedure, just like us, is prompt and straightforward. We follow a series of easy steps where users will have to submit the server list, and upon server inspection, the buyback process resumes.
Get Returns from Used Servers
Wondering what to do with your used Dell servers? ITPickUp has excellent buyback solutions that allow users to sell used servers and gain better returns from them. We offer finer and greater returns compared to other buybacks in India.
Reduce Hardware Depreciation Cost
Stocking those unwanted servers in your workspace will take you nowhere but end up consuming space and increasing hardware depreciation costs. ITPickUp is the perfect platform to eliminate your old Dell servers that can no longer serve your company's purpose.
Schedule Pickup
If you have any questions or queries about IT equipment buyback services, feel free to contact us by Telephone, Email, or Requesting a Quote. We'll be happy to assist you.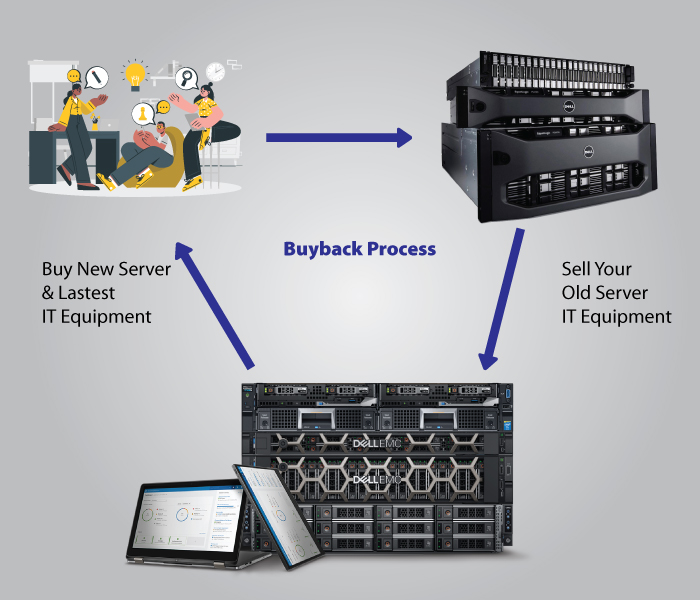 Quick Quotations for Any Dell Server
We believe that a loss of time is a loss of business, both customers and ours. So, we offer quick quotations on any model Dell server once our crew has analyzed the condition of the server you wish to sell.
Special prices for Bulk Orders
For those who wish to sell your Dell servers in bulk, you'll find no better option than ITPickUp as we come up with reasonable prices on every Dell server and even better value for the servers we buy in bulk.
Free Pickup from Any City in India
ITPickUp takes strict measures to avail a hassle-free and secure pickup of the servers you wish to sell. Our services prevail in and around all major cities in India, and we charge no fare for the pickup services we provide.
Schedule Pickup
FOR OLD EQUIPMENT