Sell Your E-Waste
Dispose of your e-waste in a responsible manner, without harming the environment.
Have you embraced new technologies to upgrade your IT infrastructure with your changing business needs? Once these assets have exceeded their usability, they will just keep lying in your warehouse and take up the valuable storage space. This brings up a big question. What do you do with the old and used equipment? Do not mix your e-waste with the regular waste or dismantle the electronic products on your own. You will not gain anything significant if you sell or give away your e-waste to the local scrap dealers as they do not function in an organized and systematic way. You don't have to fret about your surplus used electronic products anymore, we are there to help you. IT Pick up is an authorized e-waste management company which helps you dispose of your e-waste in a responsible manner, without harming the environment. And we provide you the best value for your e-waste after a thorough examination. We do not let anything go to waste. Every component is valued, used or dismantled according to their remaining value left.
Maximum Value and Trade-in for Your E-Waste
You may pile up used electronic and electrical equipment which you think can only be discarded. No more! Now, channelize your e-waste and capitalize on its residual value. Sell your e-waste to ITPickup, an authorized e-waste collection and management agency. We take care of everything – collecting, evaluating and inspecting your assets. We examine every asset and its components in detail so that we can give you the best of their remaining value. If any data is left on any devices, we also perform the data erasure and provide you with a certificate of data destruction. We are transparent in all our actions and keep you in the loop at every step.
Once you accept our quotation, we do not delay in making the payment. You can also opt for our trade-in process so that you do not have to invest much in upgrading or getting new equipment for your business. You can purchase branded electronic equipment and parts from us at discounted prices.
Schedule Pickup
If you have any questions or queries about IT equipment buyback services, feel free to contact us by Telephone, Email, or Requesting a Quote. We'll be happy to assist you.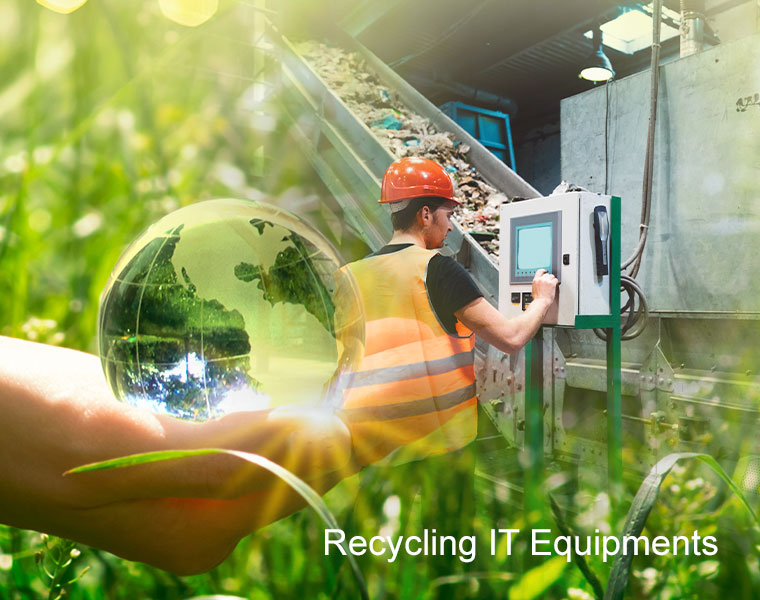 Proper Recycling of Your E-Waste
In addition to an opportunity to maximize your returns on the excess unused electronic equipment, we also give you a chance to be a part of the initiative of greener and cleaner earth. We understand the value of proper disposal of e-waste and so take utmost care that no hazardous materials or parts are left out to harm the environment. We check all the assets for reusable parts and the unwanted ones. The parts that can be refurbished are sent to our authorized recycling center for processing. And from the unwanted electronic parts like LCD modules, circuit boards, etc., the precious metals are retrieved so that they can be used for new products. Whatever remains are left, are dismantled completely. We follow all the current government rules for proper management and recycling of e-waste in an environment friendly way.
So, do not think that your end-of-life electronic products have no value. Rather, they can give you monetary benefits because of their remaining value if you sell them to us and also make you socially responsible by disposing of your e-waste in the best possible way with our help.
Schedule Pickup
FOR OLD EQUIPMENT