SERVER BUYBACK IN CHENNAI
Looking for the best solution to sell or replace your outdated servers? Do you have excessive servers that occupy your workplace but are no longer fit for your organisational demands? Then you will be interested in our best buyback services. IT PickUp is the efficient e-waste management company in Chennai that is always ready to buy all your obsolete, old, used, worn out, surplus, and end of life servers promising the greatest returns in the market. You can exchange your products with our brand new ones or cash your money from your aged old servers. Be a part of the circular economy by selling your excess servers and get a pecuniary advantage on them. Get in touch with us today to get a hold of our simple buyback processes with assured data erasing and free pickup schemes.
Guaranteed Finest Returns
Uproot the financial value from your redundant servers. ITPickUp provides the best server buyback schemes that assures maximum returns of your investment on used, outworn, out of date and end of life servers and server parts. We come up with the best buyback strategies to benefit our clients with guaranteed prices on the servers they sell us. We validate the servers and server spares with its existing demand in the market and put the finest tag on it compared to the rest of the buyback service prices in Chennai.
Wonder what happens to the data stored in your hardware? Don't you worry!! We consider your apprehension towards the data clearance. IT PickUp offers certified data wiping to erase your personal and confidential data. Also, as a part of this service, we issue a certificate to our clients ensuring the veracity of the procedure.
Certified and Secured Data Wiping
Step towards Greener Planet
We reuse and recycle your abundant hardware that might end up in abandoning landfills piling up as e-waste. We are authorized by KSPCB and CPCB and have a certified recycling unit in Bangalore. The e-waste byproducts from these processes are dumped in an eco-friendly way. Our well versed eco-friendly strategies help us to make use of the unwanted assets and contribute a fair share of responsibility towards a greener planet. Sell your obsolete servers to us and save the planet from hazardous e-waste.
Schedule Pickup
If you have any questions or queries about IT equipment buyback services, feel free to contact us by Telephone, Email, or Requesting a Quote. We'll be happy to assist you.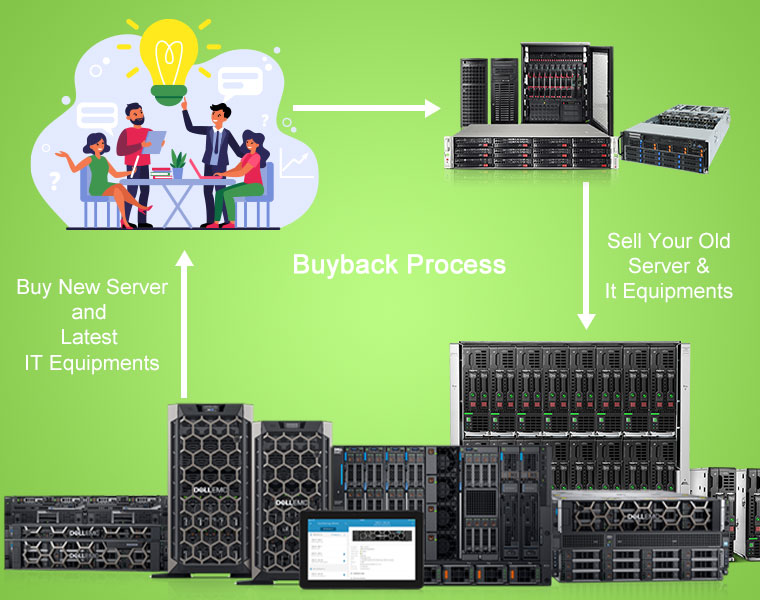 Swift and Simple Buyback Approach
Say good-bye to the complex buyback schemes. IT PickUp extends the topmost approach, which helps you all along your buyback journey with us. Our first step involves getting to know-all-about the servers you consider selling us. We make a brief note of all the details, including model number, configuration, quantity, service tag, purchase date, and age of the servers. We send our experienced engineers to you for a mandatory quick cross-checking of the physical condition and details you provide us. Once we receive a confirmation from our engineers, we raise a quote, and upon your approval, we can seal the deal.
Schedule Pickup
FOR OLD EQUIPMENT