IT Asset Inventory Buyback
Are you inadequate in managing IT assets efficiently? Do you have abundant useless assets acquiring lots of office space? Do you want to upgrade the existing assets with more capabilities and thinking about the existing ones? Well, sell the existing assets with the buyback option and get the upgraded ones for the best possible business performance. ITpickup will assist in preparing IT asset inventory as per the overall information related to existing software and hardware. No matter what IT assets you have, our buyback option covers it all including, hard drives, servers, workstations, network cards and much more. Our buyback solutions are easy and trouble-free.
Sell Your Unused/Old IT equipment.
Do you have lots of unused and old IT equipment? Are you thinking of fixing it but failing to find the perfect solution? We buy used IT equipment and offer the best possible market price in return. Rather than letting the old equipment cover huge office space, sell it to us and generate good revenue.
Make Excellent Returns on Old Assets
We offer foremost buyback services. If you have lots of old assets that are junk for you, then here is the best opportunity to make excellent returns. Our buyback procedure is easy and quick. We evaluate the old assets, and in return, we offer the best rebate.

Reduce Asset Depreciation Costs
Looking for an ideal deal to sell old assets as soon as possible? Choose our buyback option and reduce the depreciation costs. As per today's market value, get the best deal in minimal time. We will prepare the inventory, evaluate the cost, and present the proposal with our swift procedure and experience team.
On & Off-site Data Destruction with Assured Privacy
Are you worried about the confidentiality of data stored within the IT assets? Don't worry about data leakage as we ensure on-site and off-site data destruction. We completely destruct the data through data destruction software. Additionally, we pass the drives through the electromagnetic field.
Schedule Pickup
If you have any questions or queries about IT equipment buyback services, feel free to contact us by Telephone, Email, or Requesting a Quote. We'll be happy to assist you.
Complete Support for Hardware Upgrades
We value customers' time and money. If you want to upgrade the existing hardware to enhance business performance, then we are 24/7 available with our complete support. As per the required configuration, we will perform hardware upgrades and buy your existing hardware. Our technical specialists are always ready to handle and resolve your doubts.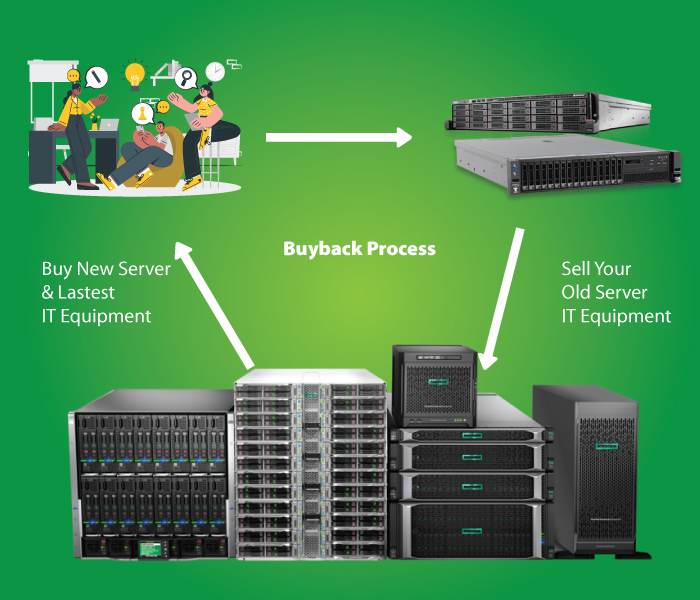 Competitive Buyback Prices
Uproot your financial value from the existing redundant servers. Our assured buyback schemes generate maximum ROI on used, old and out-of-date IT equipment. Our foremost buyback strategies benefit the customers with competitive prices on assets they provide us. After validating the assets, we provide the best price as compared to other buyback services.
Free Pickup From Any Place in India
Are you bothered about the packing of IT assets and their delivery? Well, be trouble-free and don't search for the workforce to do so. Our experienced team handles all the related tasks from packaging to delivery. In addition, we perform free pickup from your place regardless of the location across the country.
Schedule Pickup
FOR OLD EQUIPMENT