IT Hardware Buyback Abu Dhabi
Are you searching for an eco-friendly e-waste management platform in Abu Dhabi? IT Pickup is the best e-waste collection center, which buys all your used hardware, including laptops, workstations, servers, network storage equipment, etc., and provides great buyback prices in return. Our buyback program is an easier and convenient process, which offers higher returns for your sold hardware of bulk orders and avoids storage costs on your outdated equipment. We perform the data destruction process with safety and security to restrict unauthorized access. A free pickup option is available across Abu Dhabi.
Sell used & slower legacy IT equipment
If you have used old hardware that delivers reduced performance, you can sell them at IT Pickup and earn a good amount of money in return. We take all kinds of equipment, including servers, laptops, workstations, printers, network switches, etc. and provide the highest possible value for the hardware. 
Stress-free buyback process
IT Pickup offers a simple and convenient buyback program, which has streamlined according to your preference. The entire process can be handled by our experts efficiently and keep updating the information about every stage. We provide reports including from the evaluation to data erasure and disposal of hardware. 
Reduce the cost of storing old hardware
As our hardware buyback services are available in Abu Dhabi, you can avail of the best and most convenient deals at IT Pickup that allow reducing your older assets' storage costs. Additionally, you can save space at your company and improve business productivity with the renovated IT infrastructure.
Secure data destruction with assured privacy
Our expert team ensures that the erased data can't be retrieved or accessed by third-party companies. We inspect which parts can be reused for refurbishing purposes and dismantle unused parts. A certificate of data destruction was provided after completing data removal and disposal of the data safely. 
Schedule Pickup
If you have any questions or queries about IT equipment buyback services, feel free to contact us by Telephone, Email, or Requesting a Quote. We'll be happy to assist you.
Instant evaluation and prompt quotation
Your hardware assets will evaluate to estimate their operating conditions and the latest global market values or trends. We will do an on-site analysis and propose an instant quotation for your old equipment. A purchase order will be sent and raised for invoicing upon approving the proposal.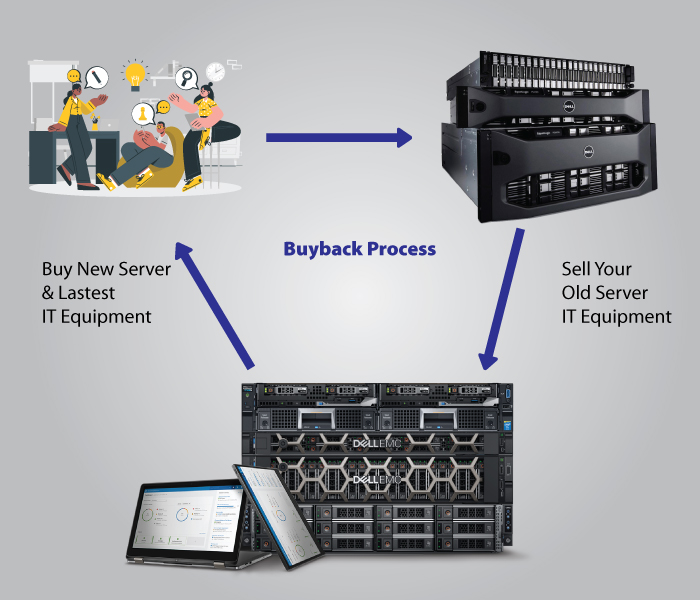 Highest returns on bulk IT equipment
IT Pickup provides the best returns on bulk orders of your end-of-life and outdated equipment. We purchase and provide excellent returns on your IT assets, including processors, servers or server parts, computers or laptops, etc. We ensure authentic buyback services that will help to upgrade your infrastructure.  
Free Pickup from Anywhere in Abu Dhabi
The significant advantage of IT Pickup is that it offers free pickup service across Abu Dhabi. Our team will pick up the hardware assets from your warehouse and safely transport them to our recycling center. We follow a secure and transparent shipping process to avoid issues during the collection.
Schedule Pickup
FOR OLD EQUIPMENT