Do you have surplus or old DDR4 memory of a server or laptop? You can use the buyback process at ITPickup to sell the memory and receive reasonable prices. We will buy all kinds of configured RAM and different brands like Dell, HP, IBM, etc. The program allows you to get increased returns or exchange with new RAM through our easy selling procedure. We provide an instant quote after testing the RAM thoroughly and free Pickup across India.
If you want to sell used DDR4 memory of your laptop, workstation, server, or desktop, you can opt for IT Pickup, which offers a buyback program to buy your old DDR4 RAM regardless of its configuration.
Exchange Old Memory for New RAM
ITpickup give the flexibility to replace the old DDR4 with a new one and provide the best deals for pricing. Accordingly, it reduces the investment costs for purchasing new RAM for your server, laptop, or workstation.
Huge Returns on Any Brand Memory
You can gain maximized returns by selling memory from any brand, including Samsung, IBM, HP, Dell, etc. We estimate reasonable and appropriate prices for your sold memory based on the configuration, brand, ranks, and other technical data.
We offer an easier and secure selling process through which the used RAM purchases and provides the best value. In addition, our buyback program ensures the quick processing of each step from initial communication and gets good savings.
Schedule Pickup
If you have any questions or queries about IT equipment buyback services, feel free to contact us by Telephone, Email, or Requesting a Quote. We'll be happy to assist you.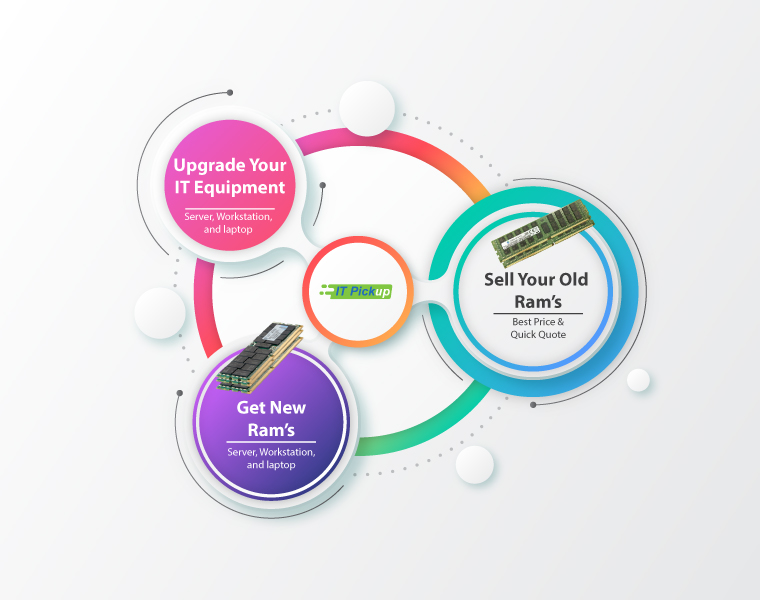 Contact Now for Quick Quote
You can contact us to get an immediate quotation of the DDR4 RAM you want to buy at IT Pickup. Our team will respond instantly and estimate the quote based on RAM information, including frequencies, ranks, etc.
Free Pickup Available Throughout India
IT Pickup will send our team to your destination anywhere in India and collect the RAM without any extra charges. We ensure that the safe and secure shipping of RAM to our warehouses reduces your efforts on transportation.
Schedule Pickup
FOR OLD EQUIPMENT