SERVER BUYBACK IN AHMEDABAD
Are you having used servers in your company or workplace, that are ready to be replaced with new ones? Have they reached their end of life? Then we from IT pickup are there to solve your problem. We have a server buyback procedure that will help you get rid of your old servers. Instead of wasting space in your company, please hurry up and contact us. We will get in touch with you immediately.
Please send us the list of servers which are present with you. With this, we will get to know about the different types of servers for the buyback process. We then check all your servers thoroughly and proceed to the payment. With us, you also have options to buy new servers in place of your old servers. This will help you change your old servers into something very useful. With our buyback process, you can get new expensive servers in exchange with old products for less price. Along with all the above, we also provide free packing and shipping services.
Sell Old Servers for Optimum Price
Have you been wondering about what to do with your old servers? Want to sell old servers or replace them, but have a low budget? We from the IT pickup can help you out with this. We take old and used servers from you and in return, gives you a lot of benefits. Instead of wasting space in your company or office, with old and end of life servers, you can actually earn good returns out of them.
Our buyback process is specially made for customers like you, who are waiting to sell your used servers. One we start our process, we will take it forward very rapidly. We take care of every minute thing and do not delay in any step. From our initial communication till the Shipping, we carry on the procedure very carefully. We not only complete the process in less time but also focus on an effective outcome.
Effective and Fast Buyback Procedure
Have you decided to collaborate with us to sell your servers? The first thing you need to do is to communicate with us. We have all our details mentioned on our website. You can contact us in three ways, through calling, emailing or chatting with us. Once we get your information, we will keep updating you every step of the procedure. When you call us, you have to be very clear regarding what type of servers that are there with you. This will help us prepare for further processing.
Schedule Pickup
Lectus urna duis convallis convallis tellus. Metus dictum at tempor commodo ullamcorper a. Potenti nullam ac tortor vitae purus faucibus. Massa ultricies mi quis hendrerit dolor magna eget.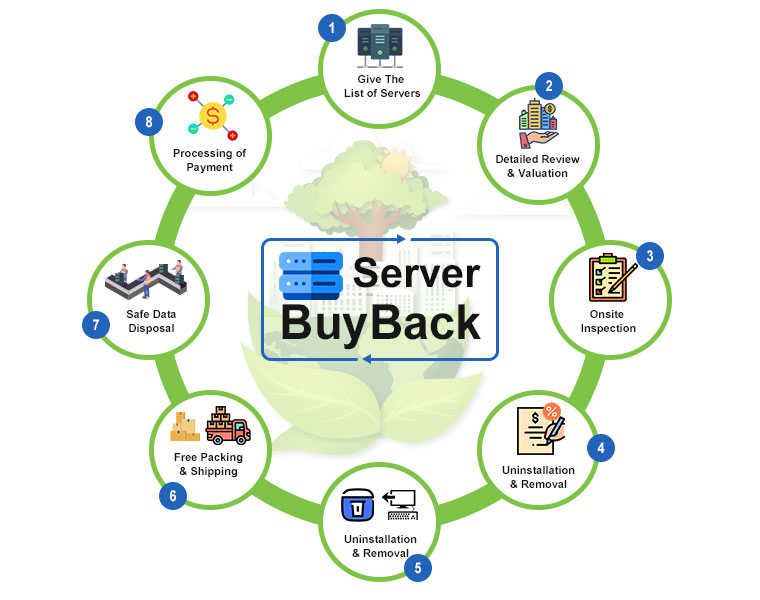 Give us the List of Servers
When you call us, we will ask you to mention the list of servers that are present with you, which are ready to be sold. You have to focus on certain criteria when preparing the list. These include the age of the server, server brand, which state/condition the servers are and the market value of the servers. This will help us know more about your servers.
Once you are done with sending us the list, we will send our engineers to your office site, to cross-check your servers. Every detail of the servers will be checked thoroughly. By doing this, we will understand the complete status of the server, which will help us prepare the quotation accordingly.
After we prepare the quotation, we will propose it to you. We will give you enough time to decide whether you want our proposal or not. You can get back to us and tell us your decision. Only then we will proceed to the next step.
Coming to the payment, once you accept the proposal, we will pay you the amount. This payment will be either in the form of cash/cheque or through an online payment. There will not be any delay in the payment process.
Free Shipping from your Doorstep
Are you worried about how to pack the huge servers? Don't you have the facility to pack them safely for their delivery? You don't need to be worried. Once we are done with all formalities, we will send our team to your site. They will pack all your servers, just like the way, when you purchased them. After packing, the same team will load all your servers into our transport and safely ship them to our respective warehouse.
Schedule Pickup
FOR OLD EQUIPMENT