How to Donate or Recycle Old Office Equipment?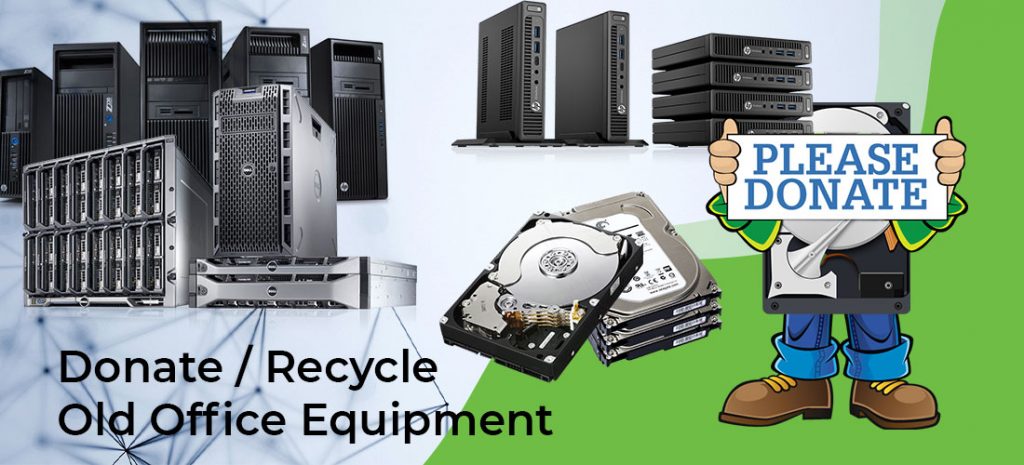 Indeed, computers, workstations, laptops, and other hardware equipment don't last forever. Moreover, electronics contain toxic substances such as mercury, lead, chromium, cadmium, etc. Unfortunately, 50 million metric tons of e-waste are thrown out each year, and dangerous materials create 70% of soil pollution.

Everyone doesn't know about recycling old equipment, and it's too hard to get rid of outdated hardware that occupies much space in your company. Proper disposal based on e-waste laws is mandatory to implement for such type of hardware.

Reasons to dispose of old equipment:
There are three reasons that every organization wants to dispose of surplus equipment:

MaximizeMaximize ROI
By recycling your old industrial equipment, you can earn great returns based on its type, model, condition, and age. Instead of transforming your unused equipment into e-waste, recycle it for increasing returns with less investment.

Free up space
Companies can save some space by disposing of the older equipment, leading to improved business productivity by cutting down the storage and depreciation costs.

Green industrial benefits
The recycling of older IT products is an intelligent environmental choice because it reduces environmental pollution by not seeping the toxic matters into the ground.
What to do with the unwanted equipment?
Initially, sanitize and clean the internal components of a refurbished product and check out the physical functionality and usability to sort out the valuable elements. Next, wipe the existing data from hard disks and reassembled the entire system by replacing hardware parts that can't be used or repaired. Test the software and hardware, including HDD, RAM, and CPU, to ensure that the refurbished product delivers optimum performance.

If any electronic equipment is beyond repair, the only option available is to recycle it to avoid releasing high toxic materials into the soil due to improper e-waste disposal. Recycling is a safe and legal way to junk your old electronics. In addition, it is beneficial for environmental protection and tax deduction.
Although it's a complicated process to recycle the IT hardware, including workstations, computers, or laptops, the experienced and certified recycling company IT Pickup ensures that the recycling procedure is secure according to e-waste laws. The recycling process will help turn your unnecessary or unwanted parts into raw materials that can be reused for manufacturing new products.

The recycling equipment can extract the useful materials from e-waste, and the components separate based on material type like plastic, glass, copper, aluminium, etc. Then, the separated materials can be used for repurposing in the manufacturing industry. It will help to reduce e-waste by not allowing the poisonous substances to penetrate the earth and make newer and better versions of tech products using more resources.

It would help if you thought of preventing waste even when the equipment reaches the end of the life cycle. It would help if you considered how much the hardware could be used before dumping it into the trash.
As companies need to advance the infrastructure to adapt to the current technologies, it doesn't mean that the older equipment can't be used for others. Before recycling the old products, you better donate to IT Pickup as we have a trusted charity with raised funds. Donating is nothing but rewarding, which means the tax payments will be deducted when donating the reusable IT assets to us.

Measures to take before removing the equipment:
It's essential to secure your sensitive personal data before disposing of or donating your IT equipment. Even if data is deleted from hard drives, there is a possibility of hacking using advanced technologies. You can back up your data, including images, photos, files, passwords, and necessary software, before wiping data from the hard drive. Then, delete everything from your computer, including the recycle bin, sign out from all applications, deactivate Bluetooth pairings, and delete online history and cookies.
We provide data destruction services to delete the data permanently from your storage drives. Hard disk shredding is also available that assures data security against malware or malicious attacks.

What happens to the donated equipment?
Donating or recycling hardware equipment is a great deal to conserve natural materials and resources effectively. It restricts air, water and soil pollution while reducing greenhouse gases emission. We have a charity fundraiser that accepts your used IT hardware and avoids environmental risks. IT pickup helps the people who need them. Some schools and communities need to establish IT infrastructure, and we help them contribute to used computers or laptops. Donating is helpful to deduct the tax payments that means donations are rewarded.

Conclusion:
Recycling or donating electronic waste gives peace of mind for businesses who want to dispose of their unwanted equipment, including hard drives, computers, laptops, or workstations. It assures to protect the environment from releasing toxic components directly into the topsoil. You can donate your unused IT products. It is important for schools and communities to have an IT infrastructure that allows them to share their computers and laptops. We can all work together to feed hungry children and the poor by using hardware-generated funds.